Suppose you're a business owner in Bangladesh. In that case, keeping track of employee payments and managing HR tasks can be a big job. That's where Payroll Software comes in! It's like having a special tool that helps you handle all these important things. But with so many options, finding the right one can take time and effort. That's why we've compiled this guide to help you compare the Payroll Software Price in Bangladesh from the top 5 companies. So, let's dive in and find the perfect fit for your business!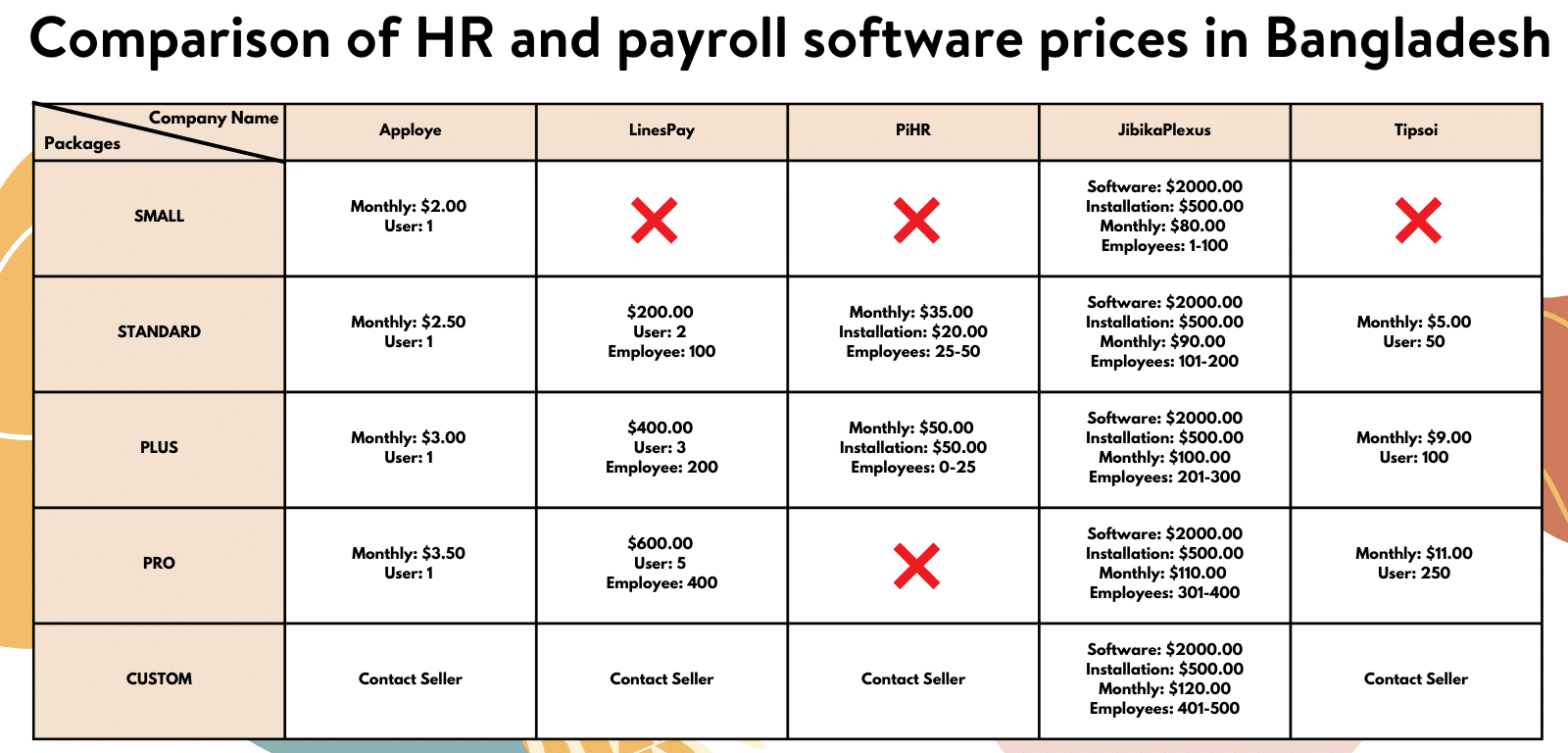 What We Will Cover Here?
Introduction to Payroll Software Price in Bangladesh
Principal Human Resource Management Services Provided by Top Bangladeshi HR Software
Payroll software in Bangladesh: The fundamentals
Types of Payroll software price in Bangladesh
Bangladesh's Top 5 HR Software and Prices
Comparison of HR and payroll software prices in Bangladesh
Overview of the best HR and payroll software options in Bangladesh
Final Recommendation
To clarify, let's begin.
Introduction to Payroll Software Price in Bangladesh
Today, payroll software is a necessity for every business. Due to the fact that it automates payroll calculations. In addition, it makes sure salary disbursements are accurate. Besides that, it streamlines administrative processes for employers.
It's important to understand the features and pricing of such software before you invest. In this document, we're giving you a look at Bangladeshi HR and payroll software pricing.
We compared the features, options, and costs of each payroll software provider. No matter what, we've got you covered when it comes to Bangladesh payroll software prices.
HR Features Provided by Top Bangladeshi HR Software Companies
To pay employees accurately, a company needs payroll services. Furthermore, it covers everything related to salary distribution, including bank deposits, checks, and other forms of payment.
The payroll department also tracks workers' payments and company taxes. Likewise, it helps determine how much a company pays its employees at the end of the fiscal year. Here are the main features provided by a software company in Bangladesh. Our next step will be to dig deeper into the issue.
| | | | |
| --- | --- | --- | --- |
| Customizable | Plans for future growth | Adaptability | Ability to integrate |
| Managing expenses | Support for data backup | Generating pay slips | Regulatory compliance |
| Demo or Trial Period | Generating payroll reports | Functions and features | User-Friendly Interface |
| Stakeholder feedback | Review and recommendation | Security and data privacy | Updated and notified regularly |
| Managing time and costs | Generating salary information | Options for customization | Training and support for customers |
HR Features (Payroll Software Price in Bangladesh)
Types of Payroll software price in Bangladesh
In Bangladesh, payroll software is available in various pricing models. It is to cater for the business needs and budgets. Here are the common types of pricing models for payroll software in Bangladesh:
1. License-based pricing:
License-based pricing is available from some HR and payroll software providers in Bangladesh. While the user pays a one-time upfront fee for the software license, which grants them access to the software.
Besides, licensing costs vary depending on the software vendor, the features included, and the number of users. Suppose an organization is willing to make a long-term investment and has the resources to do so. In that case, they might choose this pricing model.
2. Subscription-based pricing:
Under this model, subscribers pay a recurring fee. To keep using the software, companies pay monthly or annual fees. This model is common in cloud-based payroll solutions. However, the price may vary along with the company's number of employees. If a company wants additional features, the software's cost may increase.
3. Custom pricing:
The HR and payroll software industry offers custom pricing options. The pricing model takes into account the number of employees, the number of additional modules, and the level of customizing. Certainly, organizations can tailor the software with custom pricing to meet their unique needs. Still, it may require negotiations with the software vendor.
4. Additional costs:
HR and payroll software in Bangladesh might cost more than the primary software price. You might need to pay for implementation, data migration, training, and ongoing support. Consider these extra costs when evaluating the overall investment.
Bangladesh's Top 5 HR Software and Prices
Before we get into the details, let's see a snippet of BD's most influential HR and payroll software. We will also dive into these companies' key features and subscription prices.
With Tipsoi's HRM System, you can automate payroll, policies, and compliance. In addition, this software integrates with other workforce software. In this way, you don't have to worry about both software to work together. As a result, it streamlines management into one business intelligence tool.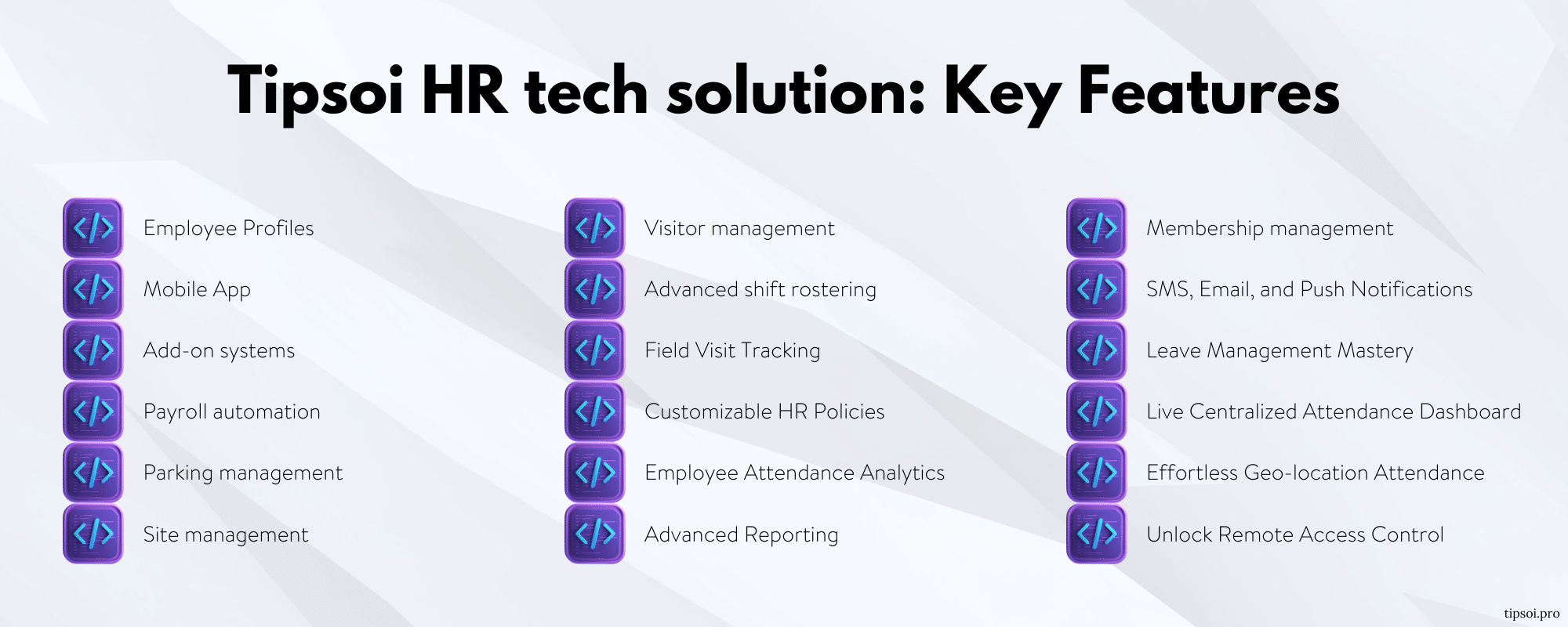 Price List of Tipsoi: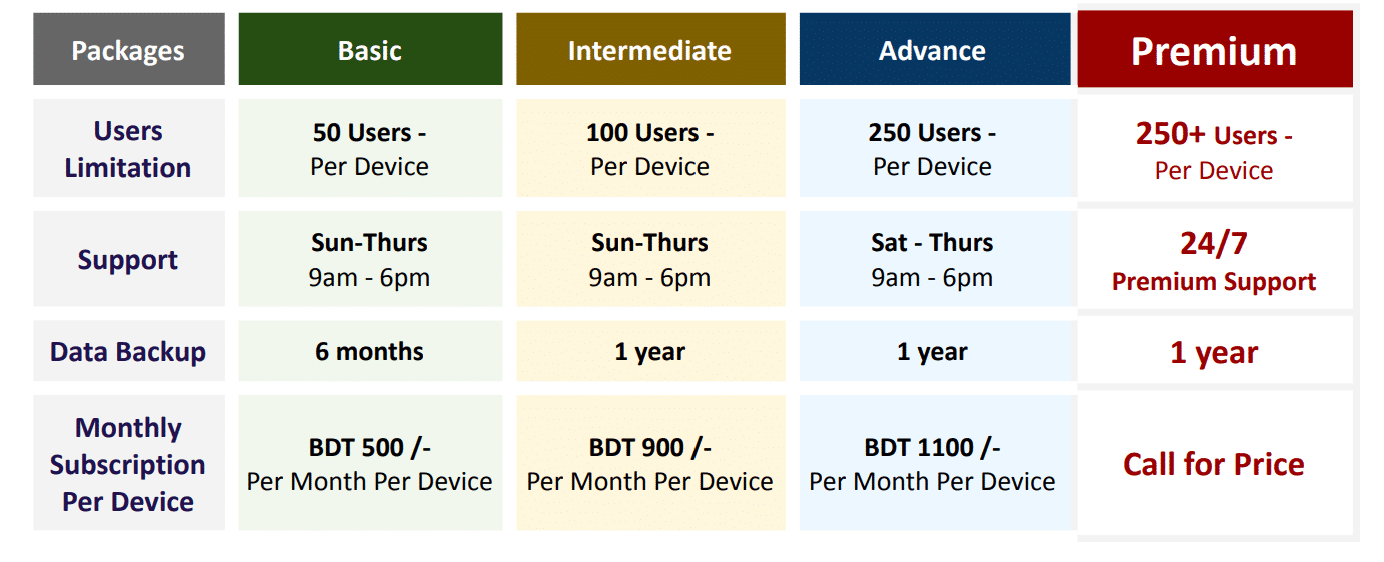 Apploye's HRM software optimizes HR processes in a company. Their software system has a user-friendly interface. Also, it contains powerful features to monitor employees. For example, it helps keep track of the time and location of each employee. In addition, you can handle invoices and deal with clients with it.
Keeping track of time
Monitoring of employees and staff
Invoice and Client
Tracking GPS locations of employees
Keeping track of productivity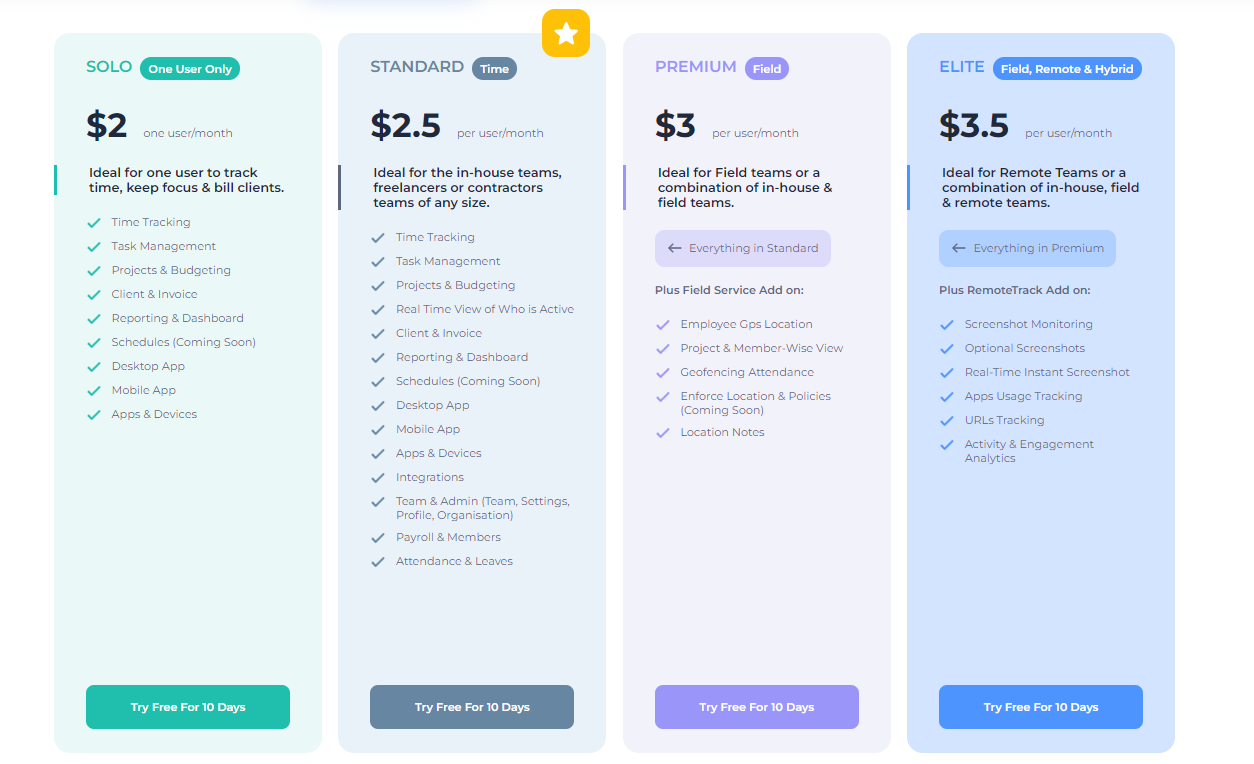 LinesPay simplifies recruiting by providing an effective and reliable HR software solution. Their HRM capabilities make it easy to process recruiting, such as job posting, resume screening, and interview scheduling.
Technology is at the forefront of this software. By using it, you can minimize the time spent on manual tasks. In this way, you will be able to save time and money. With this software, all employee records are integrated into one platform. The system improves communication and teamwork by allowing recruiters to access applicant data quickly.
The recruitment and selection process
Managing Payroll
The Management of Pension Funds
Management of rules and regulations matters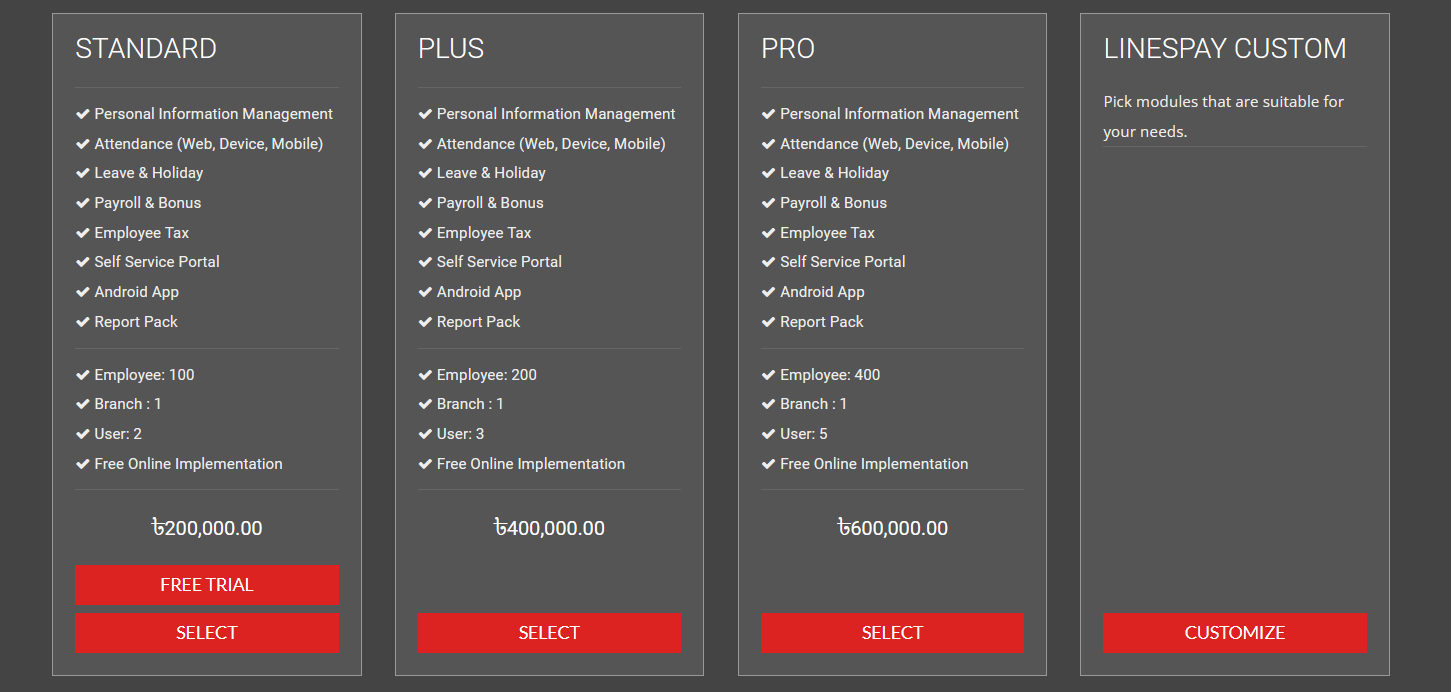 The main focus of PiHR is the administration of payroll. Using it, companies can automate payroll calculations, tax deductions, and payments. Furthermore, PiHR offers comprehensive reporting features to help companies track payroll data and make better decisions. With a user-friendly interface and 24/7 customer support, PiHR is a breeze to use.
Taxes Management
Shifts Management
Employees Management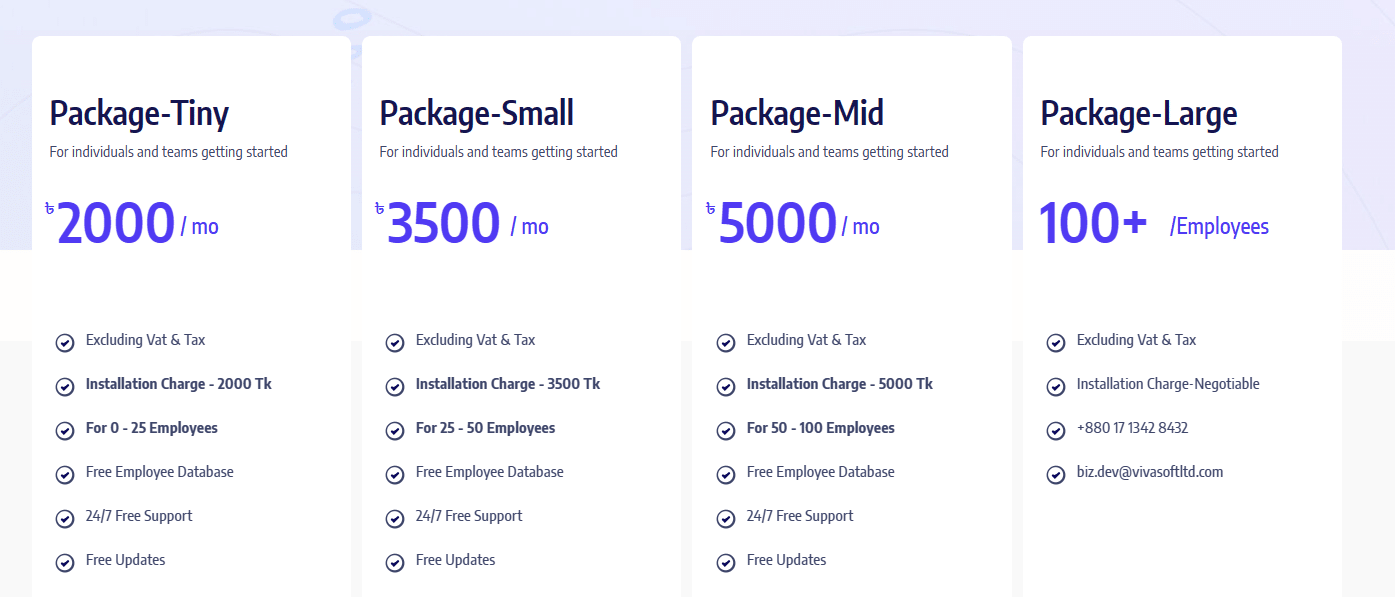 The Jibika Plexus Human Resource Information System is web-based. Payroll administration is much easier as all employee data is well organized. Jibika Plexus offers multi-layer approvals. A multi-layer approval system can set different approval levels for various tasks. Moreover, it ensures that everyone in the approval chain knows what their role is for all transactions. However, with constant development, their HRIS software package has become one of Bangladesh's most popular.
Key Features of Jibika Plexus:
Review of appraisals
Managing arrears
Managing loans
Detailed reports
Jibika Plexus Price List: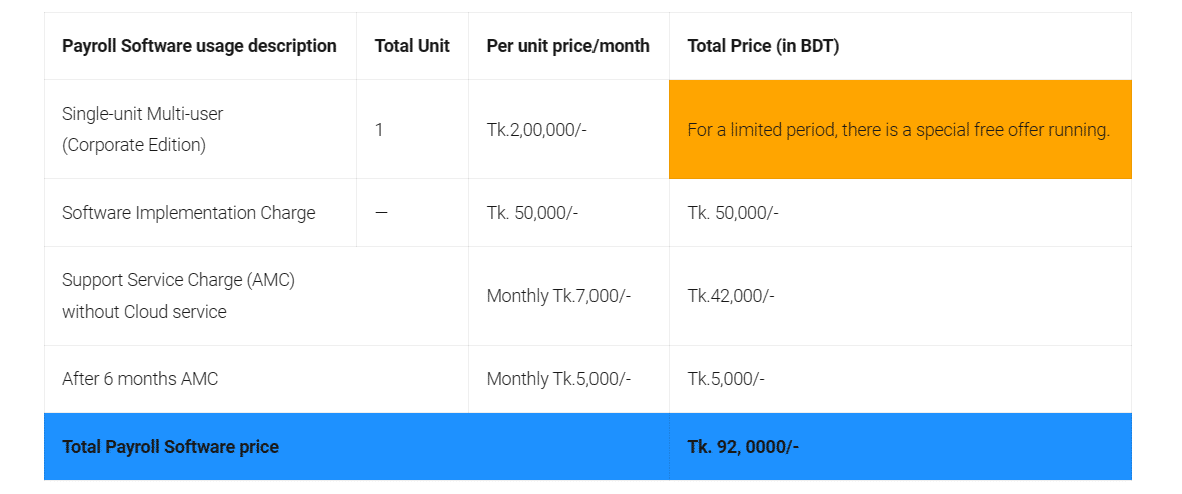 Payroll software prices in Bangladesh: Comparison
Based on the information provided, here's a recommendation for different company sizes:
Small Companies (1-50 Employees): Payroll Software Prices in Bangladesh
Tipsoi's "STANDARD" package suits small companies with up to 50 users. Because of the fact that this package offers up to 50 users for $5.00 per month.
Apploye's "SMALL" plan is cost-effective for small companies with up to 50 employees. The current price per user is $2.00.
PiHR's "STANDARD" package would work well for small companies with 25-50 employees. In particular, it costs $35.00 per month for 25-50 employees.
Companies with over 100 employees should benefit from Jibika Plexus' "SMALL" Package. For a company with 1 to 100 employees, that equates to $80.00 per month.
Medium-Sized Companies (51-200 Employees): Payroll Software Prices in Bangladesh
Tipsoi:
Tipsoi's "PLUS" Package suits medium-sized companies with up to 100 users. It is only $9.00 per month for a user group of up to 100.
Apploye's "STANDARD" plan may work for medium-sized businesses. To cover the costs, each user must pay $2.50 for the service.
LinesPay's "PLUS" Package fits medium-sized companies with up to 200 employees. As a result of the fact that it costs $400.00 for up to 200 employees, it is very expensive.
PiHR's "PLUS" package would work for medium-sized companies with 0-25 employees. Significantly, it costs $50.00 per month for 0-25 employees.
Companies with 101-200 employees can choose Jibika Plexus' "STANDARD" package is ideal. That means that for that type of number of employees, it is going to cost you $90.00 per month.
Larger Companies (201+ Employees): Payroll Software Prices in Bangladesh
Suppose you have a company with a large number of employees, and you have specific needs. In that case, all software providers will offer customised pricing tailored to your needs.
Final Recommendation: Tipsoi
Getting a demo from the relevant companies will give you a better idea of what they can do for you. When choosing HR and payroll software, think about features, personalization options, support, and ability to scale. Think about your company's unique needs before you make a decision.

After reading the article, it's obvious that Tipsoi is the best overall HR and payroll software option for Bangladeshi businesses. They have software modifying options for everyone. Below is a description of Tipsoi and why it is a good choice.
With Tipsoi, you can manage any HR task, from simple to critical. It includes functions like managing attendance, leave, payroll, and compliance. You don't even have to spend hours on comprehensive HR tasks. Tipsoi's one-platform software automates HR activities in seconds.
Live Centralized Attendance Dashboard:
Tipsoi engineers designed the software, keeping critical HR tasks in mind. Therefore, this software provides a live centralized dashboard. And so, with the live mobile app, employers can monitor employees from anywhere in the world. Also, this feature offers employers real-time insight. Consequently, it is the best software for companies with multiple locations or companies with field teams.
Tipsoi's HR solution has special locks like fingerprints and RFID cards that only let the right people in. It's like having a secret code! And guess what? The boss can use it even from far away! This feature ensures that only those who should see important HR stuff can do so. It's like having a super strong shield for secret information!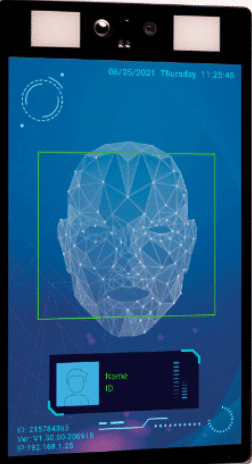 Geo-location Attendance Tracking:
You can track attendance with Tipsoi using GPS. This feature helps companies track their employees' locations in real time. In this way, the company can make sure employees start and finish work on time. Also, GPS tracking can help you figure out how efficient and productive your employees are.
Advanced Reporting and Analytics:
Tipsoi's HR solution is like a cool detective tool. It helps you learn interesting things about how everyone is doing at work. You can even sort it out and turn it into special reports. It's like being a super smart detective and learning about how your employees do their jobs!
The HR solution from Tipsoi automates complex leave management functions. For instance, carryovers and encashments. Therefore, it streamlines leave approvals and accurately tracks employee leave balances.
Adaptable HR Policies:
Tipsoi's HR solution is like a magical helper for managing time off. It ensures everyone gets the right time for holidays and special days. It even keeps track of extra days you can save for later or turn into special surprises! The best part is it can change and be just right for how your group likes to do things. And if something doesn't quite fit, it helps the big bosses fix it fast!
Payroll Automation:
Tipsoi is like a super speedy helper for paying everyone at work! It does all the tricky math and paperwork, so you don't have to. That means no mistakes, and everyone gets the right amount of money. With Tipsoi, paying your team is as easy as pressing a button!
SMS, Email, and Push Notifications:
The software provides real-time alerts and notifications via SMS, email, and push notifications. For this reason, it enhances communication between employers and employees, informing everyone of essential updates.
Cost-Effectiveness for Small Businesses:
For small companies with up to 50 employees, Tipsoi offers a cost-effective package starting at $5.00 per month. Particularly, it makes it accessible and budget-friendly for smaller businesses.
Flexibility for Future Growth:
Tipsoi is adaptable and can grow with the company. As businesses expand and require additional features or accommodate more employees, Tipsoi can scale accordingly.
With these factors in mind, Tipsoi emerges as a well-rounded HR and payroll software solution for Bangladeshi businesses.
Mobile App
Tipsoi HRM has robust, feature-rich Android and iOS native mobile applications. Admins can view the overall company's live activity status at a glance and perform various HR functions within seconds.
Visitor management
To monitor visitors entering your buildings, Tipsoi has visitor management system. Rather than keeping a conventional visitor record, Tipsoi uses a more accessible electronic medium. It allows you creating on-the-spot appointments, issuing cards, and providing access faster than ever.
Parking management
A well-planned parking strategy is crucial to managing vehicles efficiently in crowded urban areas. The system provides details of vacant parking slots nearby. It reduces traffic issues because of illegal parking in the area. In addition to meeting controlled parking requirements, it offers effortless parking strategies.
Site management
A site management system effectively manages project schedules, costs, quality, safety, scope, and functions. Many workers work there 24/7, and it takes work to maintain management attendance. Consequently, taking pictures during the entry-exit and attaching the image with the entry time and date simplifies management.
Membership management
Effectively manage your company's cash flow by tracking member-due payments. If you take the proper steps, you can significantly reduce or eliminate your chances of paying late. Membership management software will help you tackle day-to-day, weekly, monthly, and annual tasks.
Wrapping up,
HR and Payroll software pricing in Bangladesh varies depending on features, ability to adapt, customer support, as well as custom options. Organizations can choose between license-based, subscription-based, or custom pricing models. It is crucial to carefully evaluate the software's pricing structure, additional costs, and the company's specific needs before making a decision. By doing so, businesses in Bangladesh can invest in the right HR and payroll software that meets their requirements and budget.